01 Mar 2023
Comms Business March 2023 issue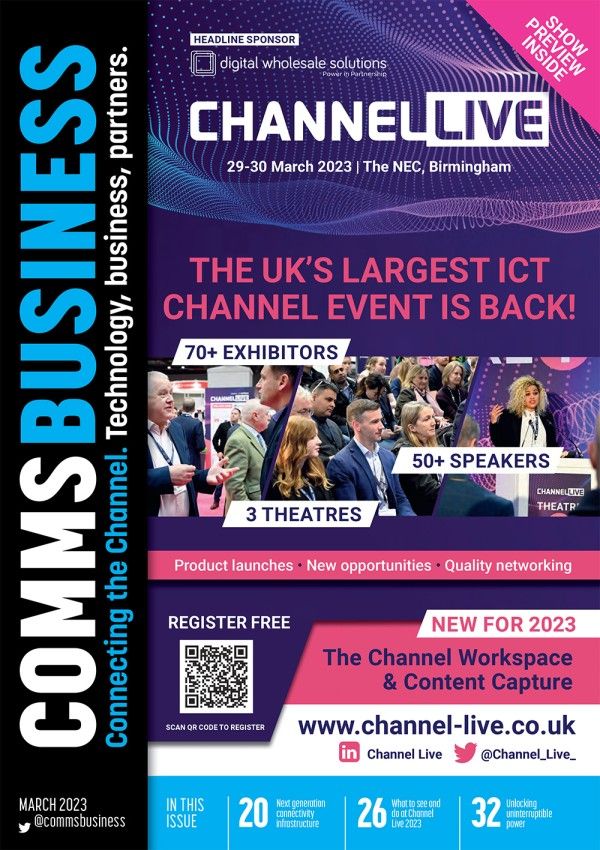 The channel is stepping into the future, with the ecosystem more fluid than ever before. At the same time, organisations and businesses across the UK need expert guidance so they can navigate new demands and new requirements. This issue aims to give you plenty of ideas for evolving your portfolio and continuing to solve customer challenges.
First up, we dive into the connectivity market. The UK is on the cusp of a new era of connectivity, with FTTP replacing FTTC, and mobile network upgrades building out 4G and 5G footprints. We find out what this next generation infrastructure means for channel companies and their customers.
Next, we look ahead to Channel Live 2023. The two-day event promises to bring the channel together to discuss the challenges and opportunities for 2023 and beyond. There will be plenty of innovations on show at the NEC in Birmingham... so grab your free ticket and join us!
Finally, we examine uninterruptible power supply solutions and explain why organisations and businesses across the UK have their eyes and ears open to the benefits of these offerings.
Our March issue is accompanied by our annual Channel Profiles supplement, so make sure you also dive into that to find out about the companies and products that could help you unlock new customer bases and speed up growth!
Read the issue here: https://cbus.mydigitalpublication.co.uk/publication/?i=784356