NinjaOne - Unified IT Management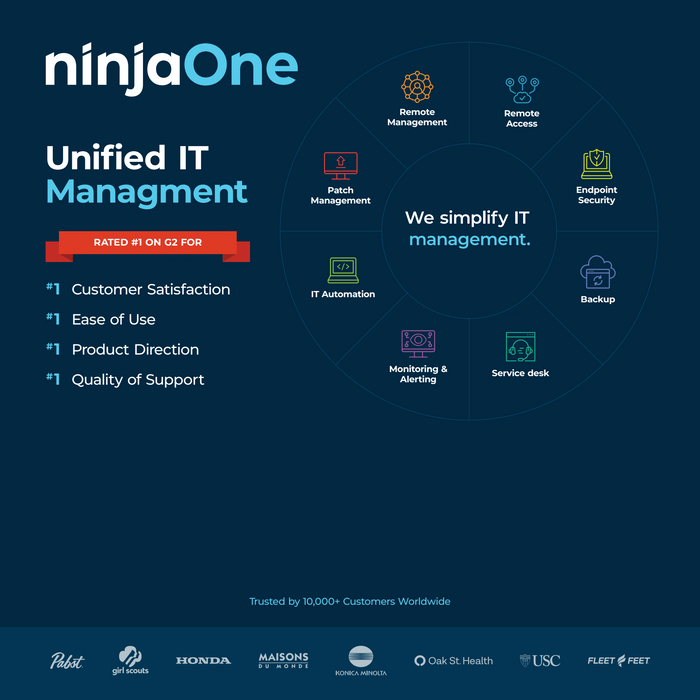 Ninja brings speed and efficiency to MSPs and IT teams, centralizing decision-making, providing actionable intelligence, and enabling profitable growth through operational maturity.
Ninja's unified data model means you have a single source of truth across all Ninja solutions. By working together seamlessly, Ninja allows you to work more efficiently and leverage automation effectively across RMM, backup, ticketing, and documentation solutions.
Build automation into your DNA, standardize delivery, and do more per technician with NinjaOne's automation engine. NinjaOne lets MSPs and IT Teams automate everything from extended monitoring and simple one-step remediations to complex multi-step processes.
Not only is Ninja lightning-fast, its easy to setup, learn, and use. Ninja's ease of use and centralized policy-based management translates directly into more endpoints managed per technician and from there to greater profitability.
NinjaOne supports over 10,000 customers around the world, and isconsistently ranked #1 for its world-class customer support. NinjaOne has been recognized as the best rated software in its category on G2 and GartnerDigital Markets for the past 3 years