Yealink T5W Series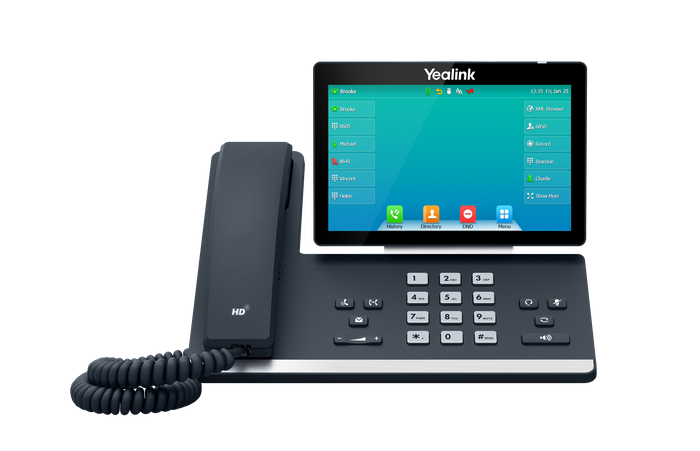 Ergonomic Design with Adjustable Displays
The Yealink T5 Business Phone Series has an upgraded elegant and sleek design with large, backlit and high resolution displays
and LED indicators to provide optimized viewing and navigation experience. The displays of the T5 Series are fully adjustable to
fulfill the viewing needs at a variety of angles and under a variety of lighting conditions.
Distraction-Free HD Communications
The Yealink T5 Business Phone Series is designed with Yealink Acoustic Shield technology to deliver distraction-free voice clarity for remote participants. Yealink Acoustic Shield technology uses multiple microphones to create a virtual "shield" between the speaker and the outside sound source. Once enabled, it intelligently blocks or mutes sounds from outside the "shield" so that the person on the other end hears you only and follows you clearly. In busy and noisy workspace such as call centers and office area, Yealink Acoustic Shield technology dramatically reduces frustration and improves productivity.

For small group session using Yealink VP59 or Yealink T58A, Yealink Noise Proof technology is available to eliminate non-human voices so as to guarantee the productivity of the group discussion.
Easy Collaboration at Your Fingertips
Yealink T58A with Camera and Yealink VP59 are the most advanced smart desktop collaboration phones, providing C-levels and busy professionals with easy operation, all-inclusive features and affordable access to HD video collabration. With a large color touchscreen and intuitive hard keys layout, the operation of the phone is made as simple as possible.

Yealink T58A supports 720p HD business video with an optional Yealink USB camera CAM50. And Yealink VP59 is built on a 1080p
full HD video capability.
Explore Many More Possibilities
The value of a desktop phone is redefined. The Yealink T5 Business Phone Series brings versatility for business customers to explore and maximize the value for every penny they spend.
The Yealink T5 Business Phone Series supports instant content sharing to the people on the other end of the call. With a simple operation, the speaker can quickly transmit the content over the phone while on the call. It enables quick disucssion and speeds up decision making.
Yealink T58A and Yealink VP59 allow intercom system integration for reception desk applications. It features one-touch door opening, visitor viewing and monitoring to simplify daily reception work.
Industry-Leading Connectivity
The Yealink T5 Business Phones have enriched advanced connectivity features for unparalleled flexibility and scalability.
Support seamless switching of calls between the desktop phone and the cordless DECT handset via DD10K DECT dongle integration
Built-in Bluetooth 4.2 for wireless headset and mobile phone connection to enhance the mobility
Built-in Wi-Fi 2.4G/5G to help businesses maximize the use of wireless network
Compatible with Expansion Module EXP50 for more line keys (except VP59)